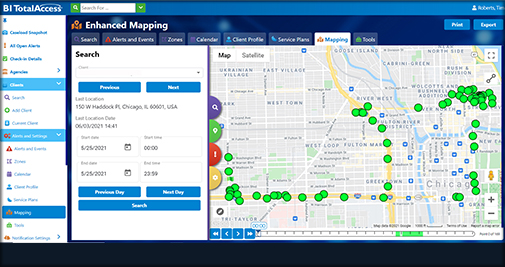 BI TotalAccess® is a secure, web-based software that provides agencies with quality case management tools 24/7. A dynamic mobile app, configurable case management services, and predictive analysis make TotalAccess the premiere electronic monitoring software in the industry. Whether on a desktop or mobile device, one login grants you instant visibility and management of all BI products—all to place you in control of client monitoring.
Advanced mapping through Google Maps® to build custom zones and track client movement
A fully functional officer mobile app for case management on the go
Robust reports for client activity, caseload stats, and inventory status
Applied analytics to better understand client behavior and calculate potential risk
Integration tools to eliminate data gaps
BI Agency Assist® time-saving administrative services
Crime scene correlation software for near-time data sharing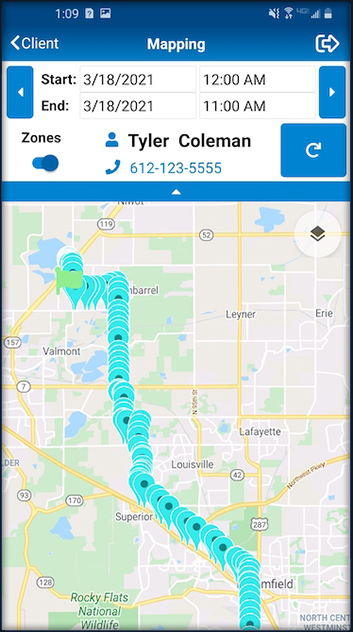 Access your caseload from the palm of your hand
Manage alerts and generate violations
Approve or deny client schedule requests with a single tap
View/edit client profiles, schedules, and case notes
See a client's GPS points, location history, and custom zones
Easily access client documents
Securely conduct video conferences and send messages to clients
Tamper reset functions, field visits, self-pay management, and more
Make Your Data
Work for You
Through actionable data, officers can effectively manage larger caseloads and more challenging clients. BI software tools are designed to make your job easier, while enhancing public safety.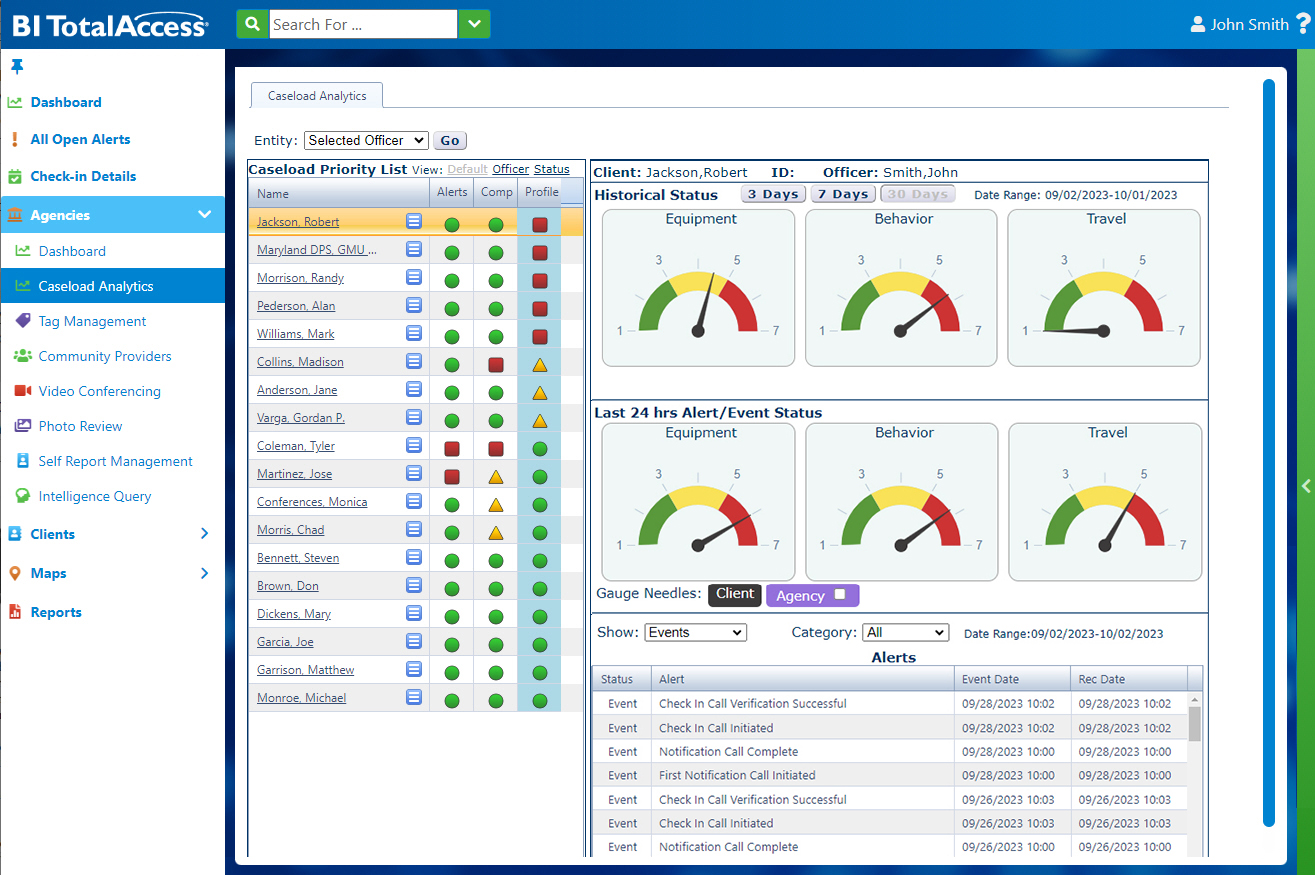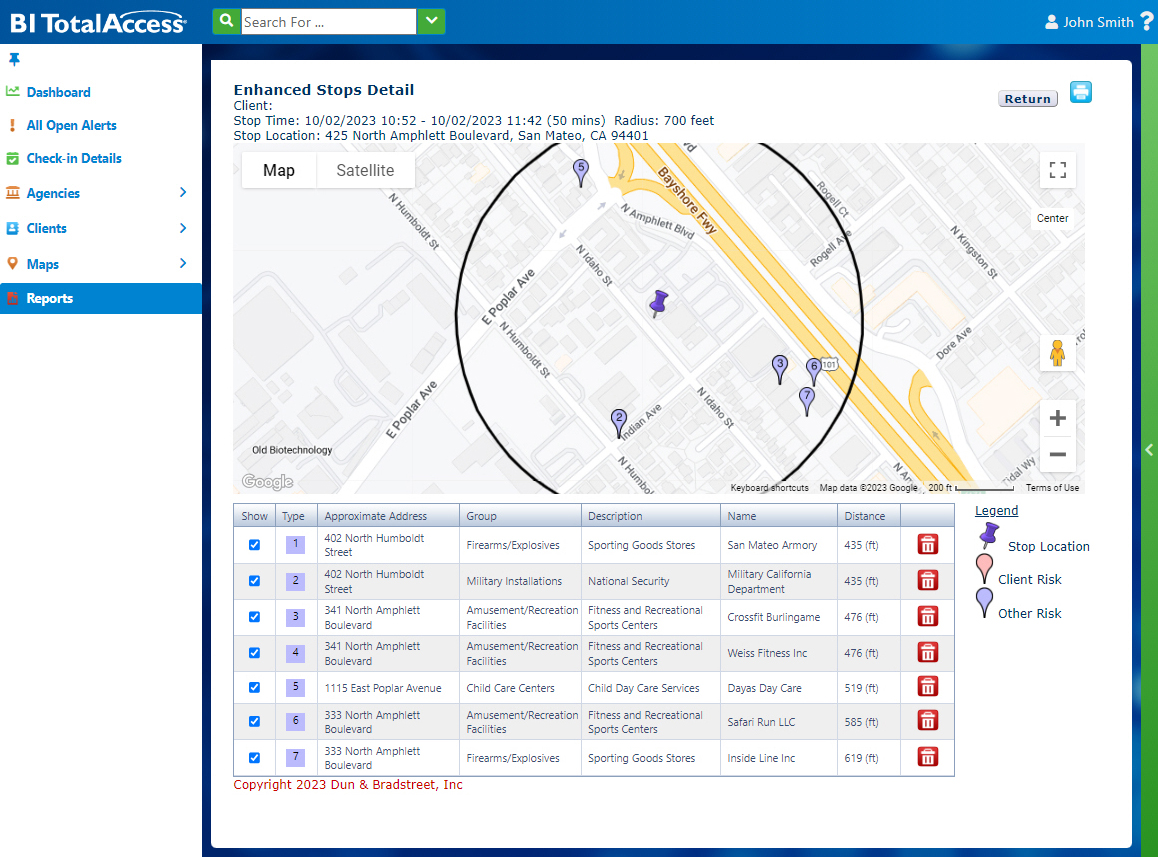 Using advanced statistical software, the BI Analytics® Suite incorporates client behavior and calculates potential risk, offering officers and managers convenient tools to quickly identify and address issues. The Suite includes two distinct modules accessible via BI TotalAccess.
BI Analytics® Suite Features
Monitors equipment, behavior, and travel to assign a risk level
Uses geographic and spatial location data
Details a client's proximity to areas of interest and supports risk-based zone creation
Identifies travel patterns including absconding and suspicious stop activity
Detects risk locations and continues to "learn" over time
Collects data points on curfew, treatment compliance, and work schedule
BI Analytics® Suite Features
Monitors equipment, behavior, and travel to assign a risk level
Uses geographic and spatial location data
Details a client's proximity to areas of interest and supports risk-based zone creation
Identifies travel patterns including absconding and suspicious stop activity
Detects risk locations and continues to "learn" over time
Collects data points on curfew, treatment compliance, and work schedule